The UTI testing solution that quickly provides personalized therapy options.
The Resolve mdx UTI test combines advanced PCR technology with proprietary susceptibility testing to deliver personalized antibiotic options in less than 48 hours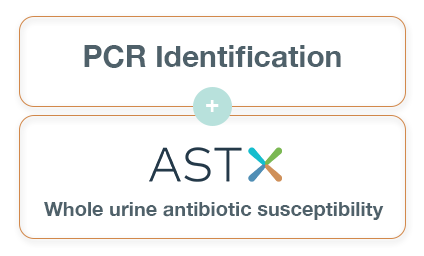 Urinary tract infections (UTIs) are among the most common infections, accounting for more than 10 million office visits and 3 million emergency department visits, at an estimated annual cost burden of US $3.5 billion in the U.S.1,2
Timely and accurate pathogen identification and antimicrobial susceptibility are critical for optimal patient management. However, urine culture, which has been standard of care, may fail to provide physicians with enough information to make informed and timely decisions. Urine culture has been shown to miss organisms, especially in polymicrobial infections, and results may take 3-5 days. As a result, clinicians have had to treat patients empirically, which has contributed to the rise of multi-drug resistant organisms, reduced treatment options, and increased costs.
Delivers results within 48 hours
Identifies specific uropathogens – precise organism identification
Organisms are identified, even in polymicrobial specimens (no "mixed flora" or "contaminated" results)
Resolve mdx accounts for bacterial interactions in polymicrobial specimens that could alter sensitivity
Today, there are better, more advanced UTI diagnostic tools available. Resolve mdx combines PCR for the precise identification of uropathogens and resistance genes along with a proprietary antibiotic susceptibility testing method that identifies antibiotic options specific to the patient's unique infection. Test results, complete with personalized oral antibiotic options, are delivered within 48 hours.
Resolve mdx tests for the presence of 19 common uropathogens, including Escherichia Coli, Klebsiella pneumoniae, Proteus mirabilis, Enterococcus faecalis, and Staphylococcus saprophyticus, as well as six (6) classes of resistance genes, including MRSA and ESBL.
In addition, Resolve mdx tests susceptibility of the organisms detected against 26 antibiotics. Studies have shown that bacterial interactions in polymicrobial specimens can alter organisms' susceptibility to antibiotics. To account for this, Resolve mdx developed a unique susceptibility testing method. Instead of testing individual isolates, Resolve mdx runs antibiotic susceptibility on the whole urine sample. This approach accounts for bacterial interactions and highlights the antibiotics that will address the patient's specific infection. Finally, to facilitate the administering of therapy, Resolve mdx presents an oral antibiotics on every report.
By combining the molecular identification of common uropathogens and resistance gene detection, along with a unique, whole-urine susceptibility method, Resolve mdx helps clinicians improve UTI management by providing personalized antibiotic options in an easy-to-read report.
Mdxhealth is regulated under the Clinical Laboratory Improvement Amendments (CLIA) and College of American Pathologists (CAP) as an accredited laboratory to perform high complexity clinical testing. The Resolve mdx for Urinary Tract Infection (UTI) test was developed, and its performance characteristics determined by mdxhealth. It has not been reviewed by the U.S. Food and Drug Administration. The FDA has determined such clearance or approval is not necessary. This UTI test is intended for use as an aid to clinicians for patient management decisions about urinary tract infection. Test results should be interpreted in conjunction with other laboratory and clinical data available to the clinician. CLIA# 05D2033858
Ordering Resolve mdx for Urinary Tract Infection is simple and easy.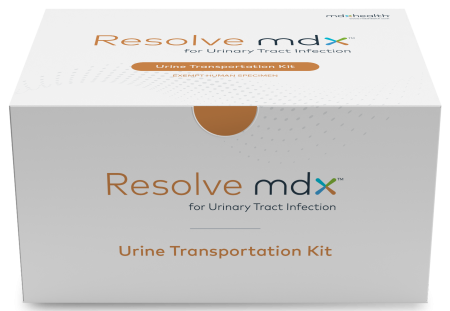 Secure mdx is a safe and secure HIPAA compliant tool that gives you access to patient reports online.