The Confirm mdx test examines your negative biopsy tissue at the DNA level to help identify undetected cancers that may be present anywhere in your prostate.
Are You At-Risk for Prostate Cancer After a Negative Biopsy?
A Prostate Biopsy Samples Less Than 1% of the Entire Gland1
Research has shown that up to 30% of men with a negative/benign prostate biopsy result actually do have prostate cancer. The disease is very difficult to diagnose because a prostate biopsy samples less than 1% of your entire prostate gland. This means that prostate cancer might be present in one or more small tumors located in areas the biopsy needle did not sample.1,2
If you and your urologist have concerns about your risk for undetected prostate cancer, Confirm mdx can provide more information after a negative biopsy by helping detect, at the molecular level, cancerous tumors that may be present anywhere in your prostate gland.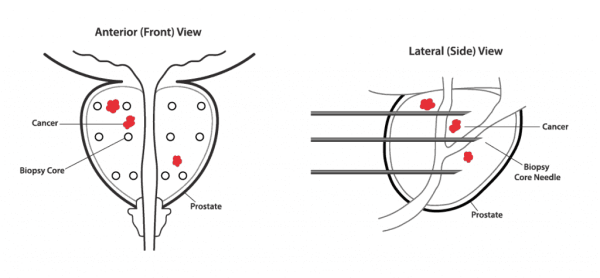 Is Confirm mdx Right for you?
For Many Patients, Yes. The Test Results Provide Actionable Information to You and Your Urologist.
You are eligible to have Confirm mdx testing if you have received any of the following prostate biopsy results within a prior 30 month timeframe:
Negative/benign
HGPIN (high-grade prostatic intraepithelial neoplasia)
Atypia (atypical glands suspicious for malignancy)
ASAP (atypical small acinar proliferation)
PIA (proliferative inflammatory atrophy, or lesion)

Confirm mdx provides actionable information that can help your urologist determine if you are at risk for prostate cancer and determine your need for a repeat biopsy.
What if Your Urologist Has Not Yet Recommended the Test for You?
Patients who wish to participate actively in their own healthcare decisions often inquire about newer diagnostic tests. If you are eligible, as described above, Confirm mdx, is well worth discussing with your physician.
More and more urologists across the US are becoming aware of the clinical benefits of Confirm mdx, including earlier treatment and improved patient outcomes and are rapidly adopting the test for routine patient care. As of 2018, more than 100,000 Confirm mdx tests have been performed. Confirm mdx is included in the guidelines of the National Comprehensive Cancer Network (NCCN), an alliance of 23 world-leading cancer centers from across the US, and the European Association of Urology (EAU). In addition, Medicare covers the cost of the test.
How Does Confirm mdx Work?
Confirm mdx is Performed on the Tissue from Your Prior Biopsy.
Confirm mdx for Prostate Cancer works at the DNA level to help identify undetected cancers. The test is able to detect abnormal DNA changes associated with the presence of prostate cancer. These changes cannot be seen by the standard microscopic evaluation traditionally used by pathologists to screen prostate biopsies.
The Epigenetic Field Effect
Confirm mdx detects a field effect associated with the presence of cancer. This halo around a tumor can be detected on a molecular level in prostate cells despite having a normal appearance under the microscope.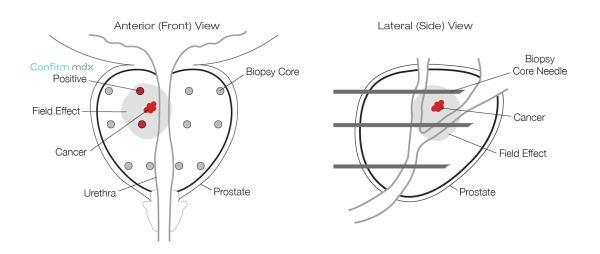 Mdxhealth is regulated under the Clinical Laboratory Improvement Amendments (CLIA) and the College of American Pathologists (CAP) as an accredited laboratory to perform high complexity clinical testing. The Confirm mdx for Prostate Cancer test was developed, and its performance characteristics determined by mdxhealth. It has not been cleared or approved by the US Food and Drug Administration. This test is intended for use as an aid to clinicians for patient management decisions for the need to perform a repeat biopsy on patients with a previous histopathologically negative biopsy result (benign, HGPIN, or ASAP) within the past twenty-four months and high-risk clinical factors for occult prostate cancer. Use outside of this indication has not been validated by mdxhealth. The test results should be interpreted in conjunction with other laboratory and clinical data available to the clinician and relevant guidelines in the decision for repeat biopsy. CLIA# 05D2033858; CAP# 8015399
We've made paying your bill hassle-free. Simply log in to our patient portal to make your payment.