A tissue test that improves patient stratification for repeat biopsy so you can focus on finding aggressive prostate cancer.
Confirm mdx Addresses Prostate Biopsy Sampling Error and the False-Negative Biopsy Dilemma
"Rule-in" high-risk men who have had a previous negative biopsy result, may be harboring undetected cancer (a false-negative biopsy result), and therefore may benefit from a repeat biopsy and appropriate treatment.
"Rule-out" otherwise cancer-free men from undergoing unnecessary repeat biopsies and screening procedures, helping to reduce complications, patient anxiety, and excessive healthcare expenses associated with these procedures.
Incorporating Confirm mdx into clinical practice improves patient stratification so you can focus on finding aggressive prostate cancer.
Specific information for GS≥7 (GG≥2) prostate cancer
Clinically validated in African American men
Saves the healthcare system $588 per patient
The Most Significant Predictor of Prostate Cancer Detection on Repeat Biopsy
Independently published clinical studies have shown that for men who have received a negative prostate biopsy result, Confirm mdx is the single most significant predictor of patient outcome among all currently available clinical factors, such as age, PSA level, and DRE results.1,2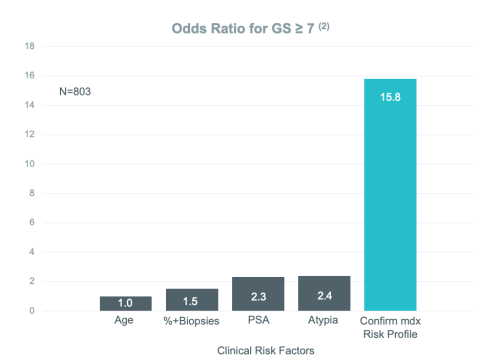 Confirm mdx Improves Upon the Current Standard of Care
Under the current standard of care:
Men with an elevated or rising PSA level (≥ 4.0 ng/ml) and/or abnormal digital rectal exam (DRE) are considered at high risk for cancer and often are referred for a prostate biopsy to determine if prostate cancer is present.
The standard prostate biopsy procedure takes 10-12 core samples, and histopathological review by visual inspection under a microscope remains the gold standard for the diagnosis of prostate cancer.
This schema, however, samples less than 1% of the entire prostate gland and results in limited histopathological analysis.
Sampling error is an inherent and well-documented issue, with false-negative rates of prostate biopsy procedures reported as high as 25-35%.3,11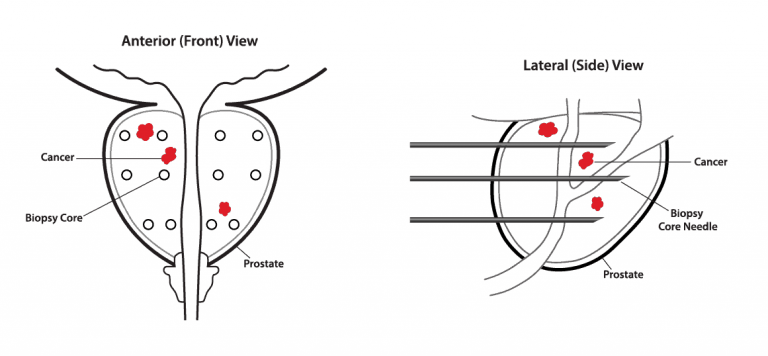 Of an estimated 500,000 biopsies performed each year, less than one-third actually result in a cancer finding, leaving more than 300,000 men with a negative biopsy reading but still facing elevated clinical risk factors.3,11,12 Concerns over inconclusive (false-negative) biopsy results, coupled with the high rate of clinically significant cancer detected upon repeat biopsy, pose a diagnostic dilemma:
43% of patients with negative histopathology on initial biopsy will undergo a repeat biopsy, many also continuing on to 3rd and 4th biopsies.
Repeat biopsies are invasive procedures resulting in increased risk of infection and hospitalization.
Significant costs are associated with unnecessary procedures and associated risks.13,15
For patients with a negative biopsy but with persistently elevated or rising PSA, abnormal DRE, or other risk factors, few options are currently available to guide a urologist in determining the patients need for an additional biopsy procedure is warranted. Fear of undetected prostate cancer leads to additional procedures, with many men being subjected to repeated invasive biopsies to rule-out the presence of cancer.
Fear of Undetected Cancer Leads to High Rate of Repeat Biopsy

Confirm mdx is a Well-Validated Epigenetic Test that Guides the Detection of Occult Prostate Cancer on a Patient's Previously Biopsied Negative Tissue
The use of Confirm mdx for prostate cancer detection using methylation-specific PCR (MSP) and cancer-associated epigenetic biomarkers to improve upon histopathology has been well validated in both scientific and clinical studies.
DNA methylation, the most common and useful measure of epigenetic abnormality testing, is responsible for the silencing of key tumor suppressor genes. DNA methylation biomarkers associated with prostate cancer have been extensively evaluated. More than 55 studies on the Confirm mdx genes and technology have been published in peer-reviewed, scientific and medical journals.
GSTP1 is the most intensely studied and widely reported epigenetic biomarker associated with prostate cancer diagnosis, encoding the glutathione S-transferase Pi 1 protein involved in detoxification, due to its high sensitivity and specificity.1,2,11
Complementing GSTP1, methylation of the APC and RASSF1 genes is frequently found in prostate cancer, and these markers have demonstrated a "field effect" aiding in the identification of biopsies with false-negative histopathological results.1,2,11
The concept of a field cancerization effect, when first reported in medical literature by Slaughter in 1953, described the changes in tissues surrounding cancer lesions and their association with development of tumors. Later, the term "field effect" evolved to include molecular changes in adjacent, benign-looking tissues. The epigenetic field effect is a molecular mechanism whereby cells adjacent to cancer foci can contain DNA methylation changes, which may be indistinguishable by histopathology, but detectable by MSP testing. The presence of epigenetic field effects associated with prostate cancer has been widely published and is the basis of activity for the Confirm mdx assay to aid in the detection of occult prostate cancer on previously biopsied, histopathologically negative tissue.15-22
Over 55+ Published Studies on the Test, Genes and Technology
Contact a Local Representative
Questions about our tests or ready to set up a new account?
Ordering Confirm mdx for Prostate Cancer is simple and easy. 
Secure mdx is a safe and secure HIPAA compliant tool that gives you access to patient reports online.