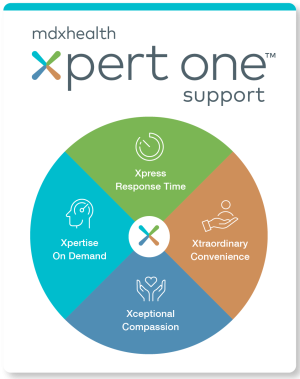 Xpert One Support is founded on personal attention, responsiveness, and commitment to customer satisfaction. Our Xperts are truly experts on mdxhealth products and processes, from specimen requirements and shipping logistics, to clinical insights. Together with your mdxhealth Molecular Diagnostic Specialist, Xpert One Support strives to make your mdxhealth experience the best it can be.
Physicians, patients, lab technicians, and everyone in the fight against prostate cancer—you can expect more from Xpert One Support.


Xpress Response Time
Our goal is to respond to your phone or e-mail inquiry within 
24 hours or less. 

Xtraordinary Convenience
Optimize your workflow by customizing your support with specimen shipping, automated supplies replenishment, and more. 

Xpertise On Demand
Get answers to questions along with access to mdxhealth clinical resources and opportunities to connect with industry thought leaders. 

Xceptional Compassion
Our Patient First Promise ensures mdxhealth tests are accessible and affordable for all patients. If you're facing financial challenges, contact an Xpert One Support patient advocate to find the right assistance
options for you.