Genomic Prostate Score® Test
The GPS test is a genomic assay designed for men with low-, intermediate-, and high-risk localized prostate cancer to help guide treatment decisions at the time of diagnosis.1-23 The test analyzes prostate cancer gene activity to predict disease aggressiveness and provide clinically meaningful endpoints.
With two tailored reports, the GPS test provides useful information for when active surveillance may be an appropriate decision for low- to intermediate-risk patients, as well as risk estimates to help inform your treatment decisions for higher-risk patients.1-23
The GPS test report helps facilitate discussions by consolidating key prostate cancer characteristics in a single document for ease of reference during management conversations.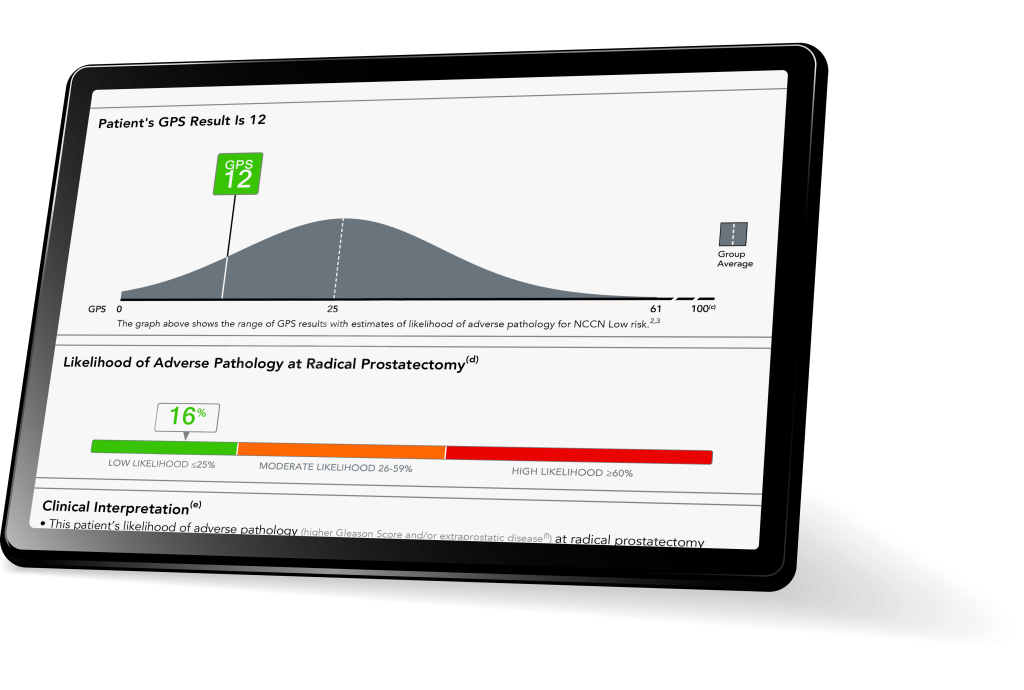 Clinical Evidence and Endpoints Matter
The GPS test has been developed and studied in over 10,000 patients.1-12,14-23 The test provides crucial endpoints with actionable data to help address the needs of each patient.
Adverse Pathology: Predicts the risk of aggressive disease based on biopsy1,2
Metastasis and Prostate Cancer Death: Long-term endpoints predict future tumor behavior to ease patient concerns and offer confidence in clinical decisions3,14,15,23
It can be overwhelming for patients to remember all the information they are told during an office visit. During patient conversations, you can go over these points:
Resources are available that may be helpful in discussing prostate cancer and genomic testing
A genomic test measures the expression of genes within a sample of tumor tissue1
The GPS test is a genomic test, and the results can help determine how aggressive the patient's cancer is1
Personalized Results Matter
Easy-to-understand GPS test result ranging from 0 to 100 that corresponds to the biologic aggressiveness of the tumor
17-gene signature, including 12 cancer-related genes representative of 4 key biological pathways and 5 reference genes
Predicts the likelihood of adverse pathology, prostate cancer death, and metastasis within 10 years1-3,15,23

 
The test is well suited for patients with localized prostate cancer, from clinically low-risk through high-risk.
We make your ordering experience efficient. You can order a test through the physician portal, and we'll help you every step of the way.